Turtle vs. Durden

Turtle works over and gets worked over by the handsome Durden, and then demonstrates two versions of the rear naked choke at the end.


Gage vs. Daly

These guys go all out at it--fast and strong! Tons of sweating, grunting, and in your guard, locked-together submission wrestling. Great bodies!


Clutter vs. Frenchie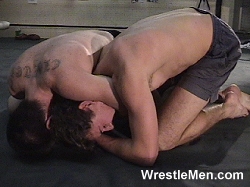 These two college-aged wrestlers really know how to work the holds. One guy likes to use a standing rear naked choke that's very hot.